If You Could Get a 10x Return
on Your Money
(Legally and Ethically),
Would You Be Interested?
Tim Randle from REIClub.com here.

One guy I want to tell you about DECIDED, plain and simple, he no longer wanted to be the bottleneck in his business... the road block to his own financial freedom.
And now - as he will tell you - he makes about a 10x return on his money...
ONE dollar in, 10 dollars out
And... he's a stay-at-home Dad who doesn't actually spend much time working.

Yes, he was making money in Real Estate Investing. Working harder and harder and gaining less and less, until he added one thing to his business model...

Outsourcing.

Yep. Outsourcing and things get DONE.
Marketing gets going. Things get done.
Leads come in. Things get done.
Deals get made. Things get done.
One dollar in, 10 dollars out.
You see you can heat up a pot of water to 99 degrees Celcius. But unless you fire it up ONE more degree it won't boil.
And a lot of folks run around doing everything from licking envelopes to fielding inbound calls and pre-screening leads - generating a lot of heat - but running out of steam (and time) before they can reach the boiling point.

Personally I know outsourcing is the profitable and sane thing to do. I've learned that (potentially life-changing) lesson myself. Now I can't help but preach the message to other people I care about. And I want to convince you... or at least get you to listen to these three case studies about how outsourcing has MULTIPLIED profits - complete with very specific what, where, how, when details.

You know how this business is. You have to shuck a lot of oysters to find a pearl.. do a lot of tedious busy work to find a profitable deal. So the question is:
Would you rather do all the shucking yourself, or,
Pay someone $2/hour to shuck?
This is what I have for you...
... Three interviews with outsourcing pros who figured it out, tweaked, refined and improved it and profit handsomely from leveraging outsourced labor into personal profits. And not to worry, they're all also Real Estate Investors. So they have to do the same kind of stuff you have to.

You've no doubt heard other folks talk about outsourcing. I know I've listened to many of them. And I thought I pretty much knew it all. But I learned stuff from each of these experts that I've never heard anyone else reveal. Stuff that makes it easier and even more cost effective.

And if you think outsourcing only means somebody in India that just doesn't get "American", I can assure you that's far from true. In these interviews you'll learn how, when and why to stay American as well as how, when and where to go global.

Pull up an ear and let the math ka-ching in your head...
Outsourcing Pro #1: Stay-At-Home Dad,
Virtual Empire Builder

Tim Mai figured out Real Estate Investing after getting laid off from the corporate world. But his business kept him working harder and harder while what he really wanted was to work less and spend more time with his young family. When his attempt at hiring a local employee proved fruitless, he turned to outsourcing.

Smooth sailing immediately? Not exactly, but oh the lessons he learned (and mistakes you can avoid).
Tim has since completely transitioned from a bricks and mortar office to a virtual business and has added other income streams. He has over 20 virtual cogs in his machine that bring in the profits.

In addition to his own Real Estate Investment company, Tim has been President of the Certified Real Estate Investors Association since 2006. He's also a nationally known author, speaker and trainer. And to his two young children that get to spend time with him everyday, he's Dad.
He'll teach you...
Do you use this common solution for in-bound calls... a virtual assistant is more affordable and more effective
How to get workers in 2010 at 1952 wages
Three specific ways to get VAs for 60-75% less than what everyone else tells you do
Everybody focuses on this - that's what limits you
No guru has ever told you to get VAs here, but it's a gold mine AND they're less expensive, more loyal and hard working
How to turn MORE workers into LESS management work for you
Give up 20% get 50% (or more) back
How to easily scale up your staff
Virtual Assistants from hundreds or thousands miles away - no problem, here's how you monitor them
Outsourcing Pro #2: Queen of a Hive
of Virtual Worker Bees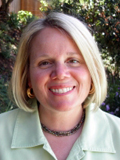 Marlene Maheu is a trained psychologist. She became an outsourcing expert while running a popular Self Help website scaling up to more than 75 virtual workers at one point.

She used her training as a psychologist to develop successful strategies and tactics for hiring and managing remote and international workers. Just like Real Estate, knowing how to separate the good investments (workers) from the not so good is critical to your success (and sanity).

She brought her outsourcing skills into her Real Estate Investment ventures and also trains Western companies how to successfully outsource.
She'll shrink your head around...
What are the key differences between outsourcing and freelancing
How to avoid undesirable behaviors from the start
Referrals are good, right? Yes, except when...
When general requirements are better than specific requirements in a solicitation ad or email
The 4 basic things you want your international outsourcer must have
Why you want to do a webcam interview and the 3 things to "look" for during the interview
Use this test for candidates and grade them on these 3 criteria
What questions to ask a reference about the candidate that will accurately predict how good a worker they'll be for you
Start here
What you NEED to know before using services like Elance, RentaCoder and Odesk
Outsourcing Pro #3: From College Dorm to Entrepreneurial Award Winner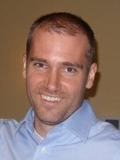 Alan Brymer subscribed to one guiding philosophy while still in his college dorm room breaking into an investment career: you can make more money if you don't do everything yourself.

He's been a successful full time investor since the age of 22. His investment company was named one of the top twenty five companies under five years old by the Utah Valley Entrepreneurial Forum. He's a frequent guest expert for the media as well as a many times published author.

Alan is Founder and President of the Utah Valley Real Estate Investors Association and creator of The Assistant Who Pays Their Own Salary.
He'll school you on...
The two simple questions to ask whether you're an unproven rookie investor or a seasoned pro
You get what you pay for... not exactly
What you can learn from the TV show Criminal Minds that will improve your ability to hire outsourcers
One super easy strategy to instantly separate good candidates from not good candidates
Do you want local, national or international outsourcers
Commission or hourly - here's the black & white rule of thumb
How to train your outsourcers for free
What a contractor can teach you about outsourcing
Are you a control freak? Learn this easy math
Independent contractor or employee?
These business-building, lifestyle-changing interviews will come to you in a 3-CD set... listen from your computer, your car, your portable mp3 player or wherever.

Most of us understand the good sense concept of working at our highest potential while paying someone else to take care of the tedious busy work. But like any Real Estate Investment strategy, being aware of the strategy versus knowing the finer details of how to optimally execute the strategy is the difference between paying to learn versus profiting from doing.

These 3 experts have already paid to learn, and tweak, and refine. Now you can skip all the way to the profit from doing at whatever scale you're ready to start at and begin building your empire from there.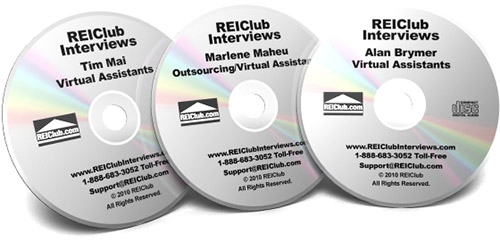 "VA Interviews"
100% Ironclad Money Back Guarantee

I'm so confident that you will love this powerful real estate investing information that I'm willing to bear 100% of the risk for the next 30 days. That means that you can get in now plus get all the bonuses RISK FREE and give it a shot for 30 days. If you aren't happy for any reason simply let us know and I'll immediately cancel your order and I'll even let you keep all the bonuses as my way of saying thank you!




But Wait! Let Me Make This Even Easier For You!
Order Right Now And You Receive All These Extra Bonuses...
Yours Absolutely Free!
Complete Transcripts of All Interviews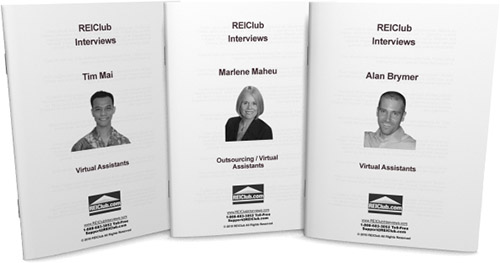 Here's a secret that's guaranteed to give you the mind of a Real Estate genius:

Some people learn best with audio. That's no secret.
Some learn best visually. That's no secret.
But the most powerful way to make something second nature, to fully integrate powerful, profit-making ideas into your brain, so you can recall them on command, is to use multiple senses to digest the information.

Was there a part that wasn't quite clear...
What to jump to a part for quick review...

You'll have the transcripts to read along with, scan and skip through, study and markup with notes to easily review when you need that clarification or re-introduction.

THAT'S why I went through the extra time and expense of having each interview professionally transcribed.
And...
FREE Virtual Assistant for 40 hours
Wish you had someone to do some of the work for you? Now you will.
Your VA will work for you up to 40 hours and there will be absolutely no cost to you.

We hear you. One of the top complaints we hear from Investors is not having enough time to get everything done.
We know doing everything yourself can slow you down and we want you be successful fast rather than slow. We've added this bonus so you get your system running quickly and you can focus your time on the high value stuff.
And...
Interview Nuggets
Focus, they say, is like a laser beam. Each interview has a handful of critical points. I've pulled them out for you and had them printed separately so you can easily grasp and review them at any time.

These little cheat sheets reveal the most important focus points from each expert. Read over them before listening to the interview to prepare your attention and again after the interview to cement those important points in your memory.
And...
FREE Trial Membership in REIClub Pro
You get complete access for one full month to the deepest - and growing - Real Estate Investing library available today. REIClub Pro has over 140 multi-media trainings available on every Real Estate Investment topic imaginable. Plus a full array of forms and resources to guide you through business building and real estate transactions.

I pay your dues for this state-of-the-art wealth building University the first month where you can get a professional education that could mean tens of thousands of dollars for your business!

And if you find out you can't live without it - as so many others feel - you'll simply invest a modest $39.95 per month to keep it coming non-stop. New content is added monthly.

The first month is on me. You can cancel any time, without obligation. But I can't say that many do - this is one of the best values in Real Estate Investing available today!
And...
The Richest Man In Babylon eBook
It's easy to be dazzled by the glitter of the latest shiny new object. This humble book teaches financial wisdom in easy to digest parables. The kind of lessons that can lead you to build true life-changing wealth rather than endlessly chasing instant rich illusions.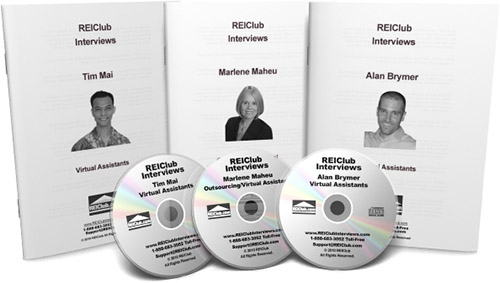 "VA Interviews"
Your neighbors will never know you're a next-door (virtual) empire builder.

Good Investing,




P.S. We reserve the right to change or remove this offer at any time. Some 3 CD sets have sold previously at $97. Please note this is the lowest price at which this offer has ever been available and we make no promises this price will be available the next time you return.
Yes, I Want These Interviews Now